Hello all!  Yes, it has been two months since I blabbed about nothing here.  Please do not lose hope.  There are always more cats on the horizon.  But now, let us talk about what has been going on in MCHY world.
Happy Birthday to us!
December 17, 2013, MCHY celebrated our 13th birthday.  We were the first cat humor website on the Internet. (you can check that, foo!)  At least with respect to captioned images and goofy stories.  I am sure some Geocities user probably had some site with pictures of their cats shitting on their shoes, but graphic feline humor has been our #1 raison d'être since day one.  We predate funnycatpix.com by six years, funnycatsite.com by seven, and the unscrupulous lolcats.com by five-point-five years.  Even stuffonmycat.com came along some five years later than us.  Do we take pride in the fact we are the original and first cat humor website on the Internet?  You fucking know it!  We were selling hoodies and mousepads and shit before those mother-scratchers had their peach fuzz whiskers!  We don't update as much as we used to, but we are still here, plugging away.  So, welcome back if you have not been here for awhile and if this is your first time here, we have ~5000 cats to peruse and steal and post on Facebook and Google Plus (if that is even still around).
Why hath hell frozen over?
In case you live on Antarctica (which is still no excuse) or are one of those too-good-for-everyone-else sport-eschewers that likes to post to Facebook JUST how much you do NOT think about football (which you obviously do), the Seahawks of Seattle have six weeks ago claimed the top prize in the game of American Football.  It is called the Lombardi Trophy and its ownership is achieved by earning more points than your rival in a game called the Super Bowl.  This is what it looks like, ese!
Maybe you have heard of it, spoken about in hushed tones around your office water cooler.  Maybe you believe, as you should, that it contains mysteries of the universe, emanates occult powers, can summon beings from other dimensions, is a vessel of the lord Jehovah his very self.  As MCHY itself is headquartered in Seattle, and our fondness of the Seahawks is no secret, we were extremely pleased when the game was over and our team was victorious with the score of 43 – 8 over the previously glorified Denver Broncos.
Peyton Manning's team was a force to be reckoned with during the regular season, amassing more points than any team in NFL single-season history.  They set records left and right, Manning himself throwing more TD passes than any other QB in history, at the age of 37.  A formidable feat, to be sure!  They were the favorites to win the contest, and almost every pundit in the sport agreed they would demolish the Seahawks with their clever offensive scheme and the pure prowess of The Greater of the two Mannings.  This turned out to be folly and sadly wistful speculation.
The Seattle defense, known as the Legion of Boom, was in force that day in East Rutherford, NJ, and held the team NFL Channel was calling "The Team of Destiny" to only 8 points, due to a late-game Denver touchdown and a 2-pt conversion.  These points were to be the only points from Denver that day, and according to our coach, The Illustrious Lord Carroll, were some garbage points we let them score because a shutout would be considered poor sportsmanship.  The following images are from the Great Defeat.  Enjoy them.
Malcolm Smith (the game's MVP) returning an interception from Lord Manning for a touchdown.

Percy Harvin (the secret weapon) scoring a touchdown 0:12 seconds into the second half.

Peyton Manning, surprised to see the opening hike of the game sail past him for a Seattle safety 0:12 secs into the game.
Malcolm Smith, a good old boy from The Valley and graduate from my high school, Taft High, and the Lombardi trophy.
Russell Wilson, the too-short-for-the-NFL quarterback, holding aloft the grand prize of them all, in his second fucking year!  Eat shit, haters!

Coach Carroll getting the Gatorade™ bath after the trouncing of the Broncos.  The best moment of his life and the lives of many championship-starved Seattleites.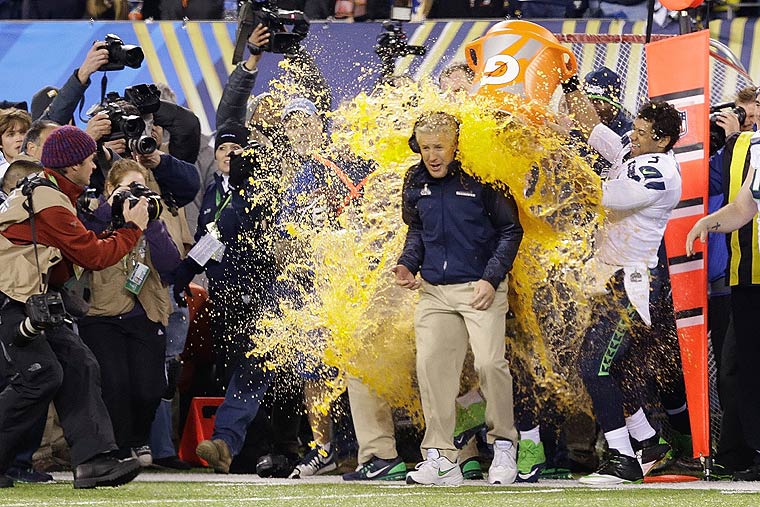 I, Jim, will say this: we have waited a damned long time to win this fucking thing, and I am going to revel in it until I die (next year).  I went to the parade the following Wednesday in downtown Seattle.  There were over 700,000 people in the city that day, some flying in from as far as Australia, to enjoy the victory of a team well-suited to win many more.  It is hard to express how much elation and joy the city felt that day.  The team came through the city from the Space Needle to the Clink on various vehicles, enthusiastic the entire time, low-fiving fans, Marshawn Lynch drinking one fan's Fireball and throwing Skittles™ all over the crowd.  It was the biggest love-fest I have ever seen and well-deserved.  We did it, Seattle!  The 12th man was all over MetLife stadium and from the first snap to Manning I, you could feel their effect on the game.  Way to go, guys!  I love you always!  GO HAWKS!
New Cats?
Hell yes, my friends!  There are only a few now, but I have a shitload in the pipeline to post. Click the pics below to check out the newest kitty updates!


ATHENA!
Because our fans were asking for another picture of Athena Baxivanos, here ya go!!!  It is one of those rare moments when one realizes that one's boobs are bigger than their head.


A funny thing happened recently.  Someone that knows–or now, KNEW–Athena Baxivanos rather intimately contacted me about her.  He challenged me about things I have written, stating her assertion that I had written poorly about her because I was *crazy*.  Oh, the irony.  He asked me why I said she is a racist.  I explained that for one, the only word she has for black people is "nigger."  That is how she describes them vehemently.  It was my first real interaction with a career racist, I explained.  I never knew anyone who hated minorities as much as she did.  The person said this could be a problem because he has a ethnically varied base of friends.  I replied, "Not for long."  He asked if I had proof.  This was apparently a real deal-breaker for him, if it were true.  Of course, all I could give were anecdotes, true though they were.  Until I remembered the rap songs.
Oh yes my friends!  When we lived in Florida (which Athena Baxivanos may assert is a figment of my imagination because I am *crazy*) I was fucking around on my Mac, making strange *crazy* songs because I had nothing else to do.  She asked if I could make rap beats.  Yes.  So I put together some crappy urban-sounding tracks with that funky synth lead we would all like to forget.  She immediately sat down and crafted some pretty terrible lyrics about her "monkey" who was no "honky."  She went on to explain how he spent all his time in the penitentiary and mooched off the tax-payer because he is a "monkey"… he's no "honky."  And he has lots of kids that don't know he is their daddy.  Interesting stuff from a nice bleach-blonde from Baltimore.  Then Athena Baxivanos recorded her hard-core rap on the Mac and I saved it away for some reason.  It was these TWO songs that I found in reply to the request for "proof" of her racism.  I emailed them to the dude and he could not believe "what the fuck?"  What? I replied.  You thought I was LYING?  Because SHE says *I* am crazy.  L…O…L my friend.  He then believed what I was saying and did what he had to do.  I will be posting them soon for all to hear, by the way.  They are quite the art pieces, my top-quality beats aside.